In the Gulf of California, between the Baja Peninsula and the Mexican mainland, lives an extremely rare species of porpoise. This species, the vaquita porpoise, is not only rare but also extremely close to endangerment, with only an estimated thirty left in the wild according to researchers.
BBC reports that the population of these cetaceans has dropped drastically since 2011, to the tune of ninety percent.
This is attributed to over-fishing, particularly the accidental entrapment of these animals in gillnets, which the Mexican government had banned the use of in 2015. The ban is expected to expire at the end of May, but advocates for the porpoises are speaking out to urge them to renew this ban to help protect what remains of the population in the Gulf.
In March and April of 2017, five dead porpoise were discovered. Three of them had been killed in gillnets, which are designed to catch fish by their gills.
"Extinction is imminent if nothing is done," said Chris Gee of the World Wildlife Foundation.
The cause to save the vaquita porpoises has also attracted the attention of A-List actor Leonardo Di Caprio. The actor has taken to social media to call out the President of Mexico and encourage his government to act on behalf of the vitally-threatened porpoises.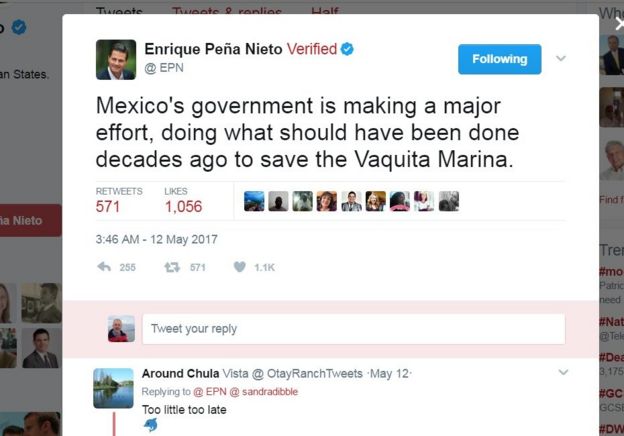 Additionally, the governments of the United States and China are being called upon to reduce or stop their fishing for Totoaba, the fish that is usually sought when vaquita porpoises end up inadvertently trapped in gillnets.
Scientists are also trying to use bottleneck dolphins to locate additional porpoises in the wild, in hopes that they might be able to move them to safer waters. This would be a temporary measure, until the issues threatening are taken care of.